Aselsan
Overview
Aselsan (an acronym, standing for Askeri Elektronik Sanayi, or Military Electronic Industries) is a Turkish company that produces firing platforms for artillery, naval systems, automated weapons systems, military radios, autonomous ground systems, avionics systems for military aircraft, surveillance systems and civilian electronic systems for transport, including road traffic toll systems. Aselsan also markets security systems for borders and oil pipelines.
The company is also producing the Turkish Altay battle tank. It is the world's 67th largest arms company.
Aselsan is indirectly controlled by Turkish President Recep Tayyip Erdoğan.
During the bloody years since 2015, Aselsan's revenues have increased more than fourfold, on the back of contracts from the Turkish government. Since Erdoğan's threats to invade Rojava in late 2018, Aselsan has been awarded a further $95 million contract from the Turkish government.
Exports accounted for 22% of the company's sales in 2014, with the company exporting to 60 countries. It is looking to increase its export market.
Links to Erdoğan and the Turkish state
Aselsan is 74.2% owned by the Turkish Armed Forces Foundation (TAFF). President Erdoğan is the chair of TAFF. TAFF was established by the Turkish Ministry of Industry and Technology in 1973 to reduce the Turkish military's reliance on foreign imports of arms.
TAFF's board of trustees includes the Minister of National Defence and the Deputy Chief of the General Staff. All of TAFF's managers are, or have been, officers in the Turkish armed forces.
Ercan Topaca, part of Aselsan's board, is currently Governor of Ankara.
Aselsan's current CEO, Haluk Görgün, has held several positions in the Scientific and Technological Research Council of Turkey (TÜBİTAK), a Turkish national agency which is supposedly independent, but has come under heavy criticism for being a puppet of the ruling Justice and Development party (although this criticism has now been taken down from the internet). Görgün also held positions, during the AKP period, in the Turkish government's Council of Higher Education.
CCTV in Turkey's prisons
When UK researchers Corporate Watch interviewed Kurdish political prisoners and their lawyers in 2015, they were told that Aselsan produces CCTV systems used in the Turkish prison system.
Making a profit from Turkish Militarism
Aselsan, like other Turkish arms companies, has tried to bolster its foreign sales by using the Turkish military's repression of movements for autonomy in Kurdistan as a marketing tool. During the 2016 Counter Terror Expo in London, Nazim Altintas, a retired lieutenant general and current director of Aselsan, told trade press that: "We are a country that has endured terrorism for a long time… Inventions are born out of requirements. And we frequently feel the requirement."
Doğan Coskun, country manager for Aselsan, was asked at the same event by Middle East Eye whether the current climate of fear in Europe and the wider world had been positive for the industry. He said: "We wouldn't say positive, I don't know – we prefer negatively so we don't have these bombs against us… But in the business case, yes."
Collaboration with universities
Aselsan has 117 collaborations with 29 universities including with Bilkent University, METU, Cumhuriyet University, Sabanci University, Gedik University and Izmir High Technology Institute. Haluk Görgün, Company Chair and CEO, has a position as the rector of Gebze Technical University.
Dr Hasan Canpolat, chairman of Aselsan's board of directors, writes that :"We consider universities as our inherent business partners".
The company's annual report states that universities "increasingly contribute to the industry's technology development activities."
In January 2019, Aselsan announced that it was planning a partnership with Bristol University over the development of 5G technology.
Bristol University staff member, Berna Bulut, spoke on a panel at an Aselsan organised event in 2017 (The post about this event appears to have been deleted from Twitter).
Bristol University's website states that a PHD engineering student, specialising in microwave technology, was funded to attend her studies in Bristol by TÜBİTAK, (see above).
Industry Press also reported that Aselsan plans to partner with the Frounhofer Institute in Germany and ETRI Institute (Taiwan), in relation to 5G technology.
This will not be Aselsan's first partnership with Germany's Fraunhofer Institute. In 2012, the Fraunhofer organised a conference in Bonn, which Aselsan participated in.
Aselsan Medical also has a partnership with Boston University.
Europe missile system deal
In late 2018 at a meeting in Paris between Emmanuel Macron and Erdoğan, a deal was finalised whereby Turkish companies Roketsan and Aselsan would cooperate with Eurosam, a joint venture between MBDA and Thales. MBDA is a partnership between Italy's Leonardo, BAE Systems from the UK and Airbus from the Netherlands.
The companies agreed to prepare the development and production contract for a long-range missile system for the Turkish Air Force. This shameful contract was signed in the context of Turkey's continued ethnic cleansing in Afrin, and plans for a full-scale attack on Rojava.
However, in early 2020, İsmail Demir, head of the Turkish Defence Industry Directorate, stated that France was obstructing progress. According to Defense News, Demir argued that France has impeded progress on a potential deal ever since Turkey's military incursion into northern Syria in October.
Involvement in EU projects
Aselsan has benefited from its involvement in several EU programmes.
Collaboration with Thales
Aselsan is currently developing a missile launcher system with French firm Thales. Thales has a large corporate presence in the UK.
Collaborations with BAE:
As well as collaborating with Aselsan on the MBDA missile programme (see above), BAE and Aselsan have joined forces to produce an electronic warfare system called the SPEWS-II for Turkey's F-16. It entered into use in at least 21 of the aircraft in 2019.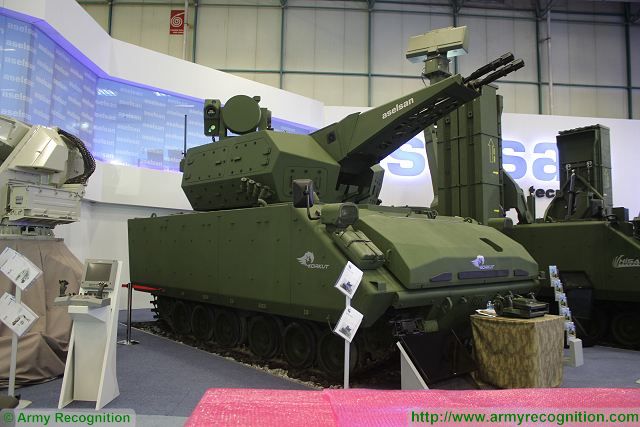 Take Action
Aselsan is trying to increase its profits from arms exports, marketing its products as used on people in Kurdistan. It is important to resist Aselsan, and other Turkish arms companies, as they try to expand; for example, when they are exhibiting at arms fairs or seeking relationships with universities.
Campaigners could push for UK universities to end partnerships with the Turkish universities collaborating with Aselsan.
Oppose Aselsan's university partnerships in Europe and the US: Bristol University in the UK, Boston University in the US and Fraunhofer Institute in Germany.
Activists could also target French insurance company AXA, which invests in various arms companies including Aselsan. AXA has offices close to the London Stock Exchange.
Pressure could be put on the European Union to stop Aselsan from benefiting from the EU's R&D programmes.
Protest Aselsan's participation in the biannual DSEI arms fair, held in London.
Demand Airbus (Netherlands, Thales (France), Leonardo (Italy) BAE Systems (UK), Leidos (US) and MBDA end all business relationships with Aselsan, and that they stop arming Turkey.
Demand that investors divest from Aselsan's partners, Airbus, Thales, Leonardo, Leidos, BAE Systems and MBDA. Many of these companies are registered on the US or London stock exchanges. Airbus also trades shares in Germany and the Netherlands.
Pressure the Italian and French governments to end their support for Turkey's long-range missile programme.
Basic company information
Global Presence: Headquartered in Ankara, Subsidiaries in Kazakhstan, South Africa, Azerbaijan, Jordan and Abu Dhabi. Exports to 60 countries, including countries in the Middle East and Latin America.
Business area: Weapons manufacturing, software, security systems, road traffic toll booths.
Founded: 1975
Traded on: Istanbul Stock Exchange
Ownership: 84.5% owned by the Turkish Armed Forces Foundation, 15.3% traded on the Istanbul Stock Exchange, 0.12% (1.15 million Turkish Lira) of public shares owned by Axa Insurance Plc.
Net Income: $1 billion
Number of employees: 5,335
People: Haluk Görgün (CEO), Mustafa Murat Seker, Dr Murat Ucuncu, Okan Turan, Hezarfen Oruc.
Subsidiaries include: MIKES Microwave Electronic Systems (100% of shares), Roketsan (14.8%)
Partnerships: Thales (France), MBDA, Leidos Naval Group (US), Airbus (Netherlands)
Participation in arms fairs: DSEI 2015 (London), Counter Terror 2016 (London) regular participant in Istanbul's IDEF arms fair, IDEAS (2018), AAD (2018) , DSEI (2017). To view a full list of Aselsan's participation in arms fairs click here.
Website: aselsan.com.tr