Overview
Turkish drone manufacturer Baykar Makina describes itself as "Turkey's leading UAV and AI company." It has strong ties with President Erdoğan and the AKP.
Baykar executive, Selçuk Bayraktar, is President Erdoğan's son-in-law. Selçuk Bayraktar is, apparently, the "chief architect of Turkey's first indigenous, operational UAV Systems."
President Erdoğan made a speech at his daughter Sümeyye's wedding to Selçuk Bayraktar in 2016. Ex-president and AKP co-founder Abdullah Gül was also a guest, as well as ex-prime minister Ahmet Davutoğlu.
Turkish government funding
In late 2019, Defense News reported that "the [Turkish] government plans to provide Baykar Makina with up to 600 million liras (U.S. $105 million). Government directive No. 1504 said such incentives will help bolster the company's financial outlook in the next eight years. Tax benefits are also among the incentives…"
Killer TB2 drones
According to a 2019 Intercept article, "Turkey stands out as not only the most advanced new developer of drones but also as the only country to regularly use them on its own soil, against its own citizens." These killer drones are mostly supplied by Baykar, while the remaining are supplied by Turkish Aerospace Industries.
There are 75 Bayraktar TB2 drones in operation in Turkey today, and they couldn't be in operation without the help of British arms company EDO MBM, owned by L3Harris. EDO supplied its Hornet missile rack to Baykar while the company was developing the TB2. Meanwhile, Turkish arms company Roketsan provides its MAM-L and MAM-C missiles for the drone.
The TB2 drone was developed from the Bayraktar TB1, a joint venture between Baykar and Kale Group.
The 2018 invasion of Afrin
The Intercept says:
"Over the last two years, as Turkish forces have pursued the PKK into northern Syria and Iraq, the drones have allowed Ankara to eliminate members of the outlawed group from the air, earning the adoration of a nation riding a wave of patriotism.
According to official sources, Turkish TB2s carrying Turkish-made guided bombs killed 449 people in north-western Syria between January and April 2018. Scores of others have been killed in northern Iraq, including PKK leaders Ankara has been pursuing for decades. And inside Turkey, in the Kurdish-majority southeast, at least 400 people have been killed in airstrikes involving drones since 2016."
According to Anadolu news agency, TB2 drones were used in almost a fifth of murders committed by Turkey during its 2018 attack and occupation of Afrin (known in Turkey as 'Operation Olive Branch'). And a video released by Baykar states that the TB2 did "over 90% of all flight sorties with over 5,300 hours in Operation Olive Branch."
According to an internationalist YPG volunteer in Rojava, drones were used 24/7 during Turkey's invasion of Afrin. Argeş told The Canary,
"F16s were conducting the air strikes and then three types of drones. Two were unarmed surveillance drones… [including the] Turkish Aerospace Industries Baykus, and then there was one armed drone called the Bayraktar which is produced in Turkey [by Baykar Makina]… The Bayaktar fires rockets: the Roketsan MAM-L smart micro-munition."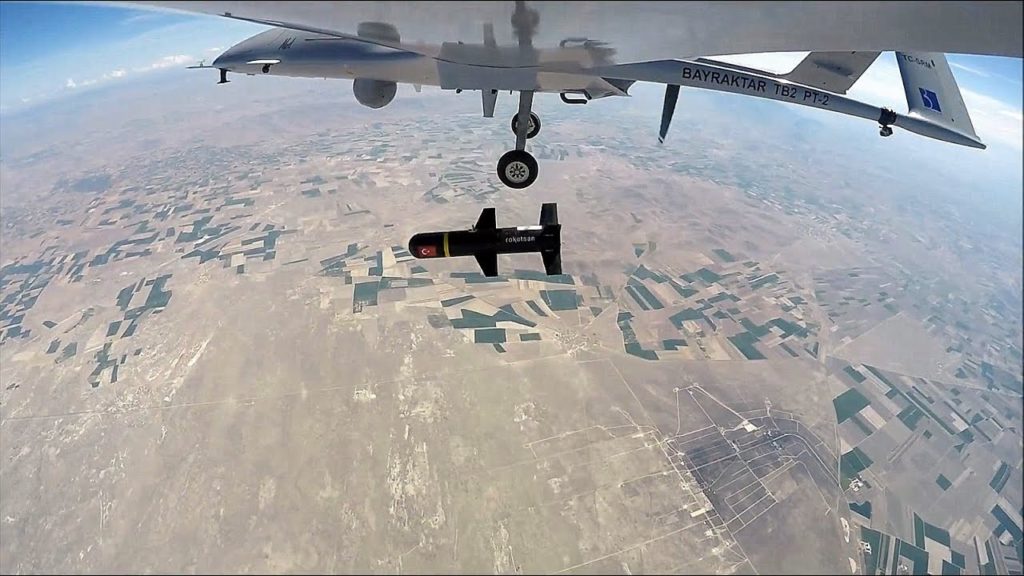 Argeş went on to say:
"The Turkish strategy was heavily reliant on drones, and the drones would either directly strike you or coordinate the targets to artillery. The artillery… [which is] like a Howitzer, is on a tank called the T155 Firtina – that has a range of 40km. They can hit really accurately using the drone coordinates, and the ammunition for that is actually produced in Turkey and it's very cheap for them to fire, so they would just be continuously firing artillery into our positions. The drones were pretty much in the air 24/7.
They had access to so much NATO weaponry that there were some Israeli and American drone designs that were probably used by them too, but I don't know exactly which ones."
Argeş explained Turkey's tactics:
"They would use a strategy with the drones called 'Rabbits Out'. 'Rabbits Out' is where they expect the target to be in a certain area. So what they will do is put an unarmed, or sometimes armed, drone above there and they'll just start firing artillery into the area – sometimes supporting it with air strikes – to make us move… It was a psychological strategy so that we would lose our nerve and move, and once we did they could directly target us and hit us."
The murder of Zêki Shingali
In 2018, prominent Yazidi-Kurdish PKK member Zêki Shingali (İsmail Özden) was murdered in Shengal by a Turkish bomb fired from a TB2 drone. Shingali was know as a revolutionary to many in the Kurdish freedom movement. Eleven people were killed in the assassination.
Sickeningly, the Turkish government published drone footage of the attack, while the Turkish state-propaganda media celebrated.
The murder of Mehmet Temel
In August 2017, Mehmet Temel and three friends were driving to visit Mehmet's mother in a village in Bakur (south-eastern Turkey). They stopped under a tree for a picnic and were fired on by weaponry from a TB2 drone.
Mehmet was taken to hospital, while the Turkish police fired tear gas at crowds that gathered outside. Mehmet's brother, Tahir, said that Turkey didn't allow them to hold a funeral for Mehmet. Tahir said:
"They were just having a picnic, they were so close to their own home. They passed through a checkpoint to get there, it's not an easy checkpoint, the police there look at your IDs, and that area was not some kind of prohibited area. We still don't have an explanation for why the drone attacked."
Mehmet's friends, who survived the attack, were accused and convicted for being members of the PKK.
The 2019-2020 attack on Rojava
Baykar's TB2 drones were also crucial for Turkey's 2019 invasion of Rojava, north-eastern Syria. Turkey dubbed its invasion 'Operation Peace Spring'. The invasion began in October 2019, and Turkey has continued to attack even throughout the coronavirus crisis. It has created hundreds of thousands of refugees. Turkey has been accused of ethnic cleansing and war crimes.
There is evidence that Turkey used chemical weapons in its attacks, and that these weapons were fired from drones.
The 2020 attack on Idlib, north-western Syria
In February 2020, Turkey began 'Operation Spring Shield', its assault on the Assad regime in Idlib. Turkish state-propaganda newspaper Daily Sabah said that the attack was "run entirely by locally developed armed drones", and that it "showcased Ankara's technology prowess and its aerial firepower on the battlefield".
Anadolu news agency quoted a Turkish 'defence' industry expert as saying: "For the first time in the world, drones were used as the primary element in air strikes during Turkey's Operation Spring Shield". The use of drones in Syria in this manner "has put forward a new military doctrine not only in Turkey but also in the world's literature on warfare," he said.
Not for the first time, The Turkish state released video footage on social media of Baykar's Bayraktar TB2 drones striking targets.
In a promotional video, Baykar states that the Bayraktar TB2 carried out "80% of all flights with over 2,000 hours in Operation Spring Shield."
Baykar's new killer drone: the Akıncı
In mid-2019, Baykar completed its design phase of its new killer drone, the Akıncı (meaning 'Raider' or 'Attacker').
The Akıncı will be the first commercially available drone capable of launching an air-launched cruise missile.
Bayraktar mini drone
Turkey also operates 150 hand-launched Bayraktar mini drones, used for reconnaissance and surveillance. The mini UAV was introduced into service in 2007 and, according to Baykar, has completed "100,000 operational flight sorties to date."
But Bayraktar drones are vulnerable
Turkey has used TB2 drones extensively in Libya. However, the Libyan National Army continually reports that it has shot down TB2s. As of June 2020, at least 20 TB2 drones have been destroyed.
In February 2020, Turkey lost three TB2 drones within 24 hours when one drone was shot down in Syria, and two others were destroyed in Libya.
In 2018, a TB2 also crashed in Turkey, probably due to engine failure.
Turkey Technology Team (T3)
Erdoğan's son-in-law and Baykar Chief Tehonology Officer, Selçuk Bayraktar, is chairman of Turkey Technology Team (T3). Haluk Bayraktar, who is Selçuk's brother and CEO of Baykar, is also a co-founder of the foundation.
According to Haluk Bayraktar, T3 is "intended to foster technology education among Turkish youth through entrepreneurship, competitions, and supplementary technology education."
There is evidence that Istanbul municipality donated 41 million lira to T3 in 2018, before Istanbul's mayoral seat was won by rival CHP candidate Ekrem İmamoğlu. T3 succeeded in blocking journalists access to the papers listing the spending.
Call for a two-way arms embargo
Baykar is keen to export its drones which, according to Daily Sabah, are "showcased..in the battlefield."
Baykar director Haluk Bayraktar, states that: "we not only use this technology but also export it. These systems have been exported to Ukraine and Qatar. And now, as you can see, we are realising Akıncı, and this will put us among the first three countries who can develop in such depth of technology."
It's important that activists call for a two-way arms embargo, calling for governments to ban not only the export of arms to Turkey, but also the import of Turkish arms which have been "battlefield" tested on Kurdish and Syrian people.
Take action
Baykar is trying to increase its profits from arms exports, marketing its products as used on people in Kurdistan. It is important to resist Baykar, and other Turkish arms companies, as they try to expand; for example, when they are exhibiting at arms fairs or seeking relationships with universities.
Campaigners could push for UK universities to end partnerships with the Turkish universities collaborating with Turkey Technology Team (T3). T3 collaborates with Boğaziçi university, Fatih Sultan Mehmet Foundation university, Istanbul Technical university and Yıldız technical university.
Basic company information
Presence: Headquartered in Istanbul, Baykar is keen to expand its relationships with other countries. Its drones have been exported to Ukraine and Qatar. Haluk Bayraktar has established a joint venture between Baykar and Ukrainian state-owned Ukrspecexport to "enhance and to create synergy between the aerospace & defence sectors of Turkey and Ukraine."
Business area: UAVs, C4I, artificial intelligence
Founded: 1984
Ownership: Privately owned by Özdemir Bayraktar
Number of employees: 750
Key people: Özdemir Bayraktar and his sons Haluk, Selçuk and Ahmet