Roketsan
Overview
Roketsan is a major Turkish weapons manufacturer. It is best known for its vast range of unguided rockets as well as laser and infrared guided missiles. It supplies the Turkish armed forces.
In 2017 Roketsan made it into Defense News' Top 100 'defence' companies list. Each year it creeps up the list, and in 2019 was ranked at number 89 in the world.
Links to Erdoğan and the Turkish state
Roketsan is 55.39% owned by the Turkish Armed Forces Foundation (TAFF). President Recep Tayyip Erdoğan is the chair of TAFF. TAFF was established by the Turkish Ministry of Industry and Technology in 1973 to reduce the Turkish military's reliance on foreign imports of arms.
TAFF's board of trustees include the Minister of National Defence and the Deputy Chief of the General Staff. All of TAFF's managers are, or have been, officers in the Turkish armed forces.
Precision strike anti-ship cruise missiles
In 2020, Roketsan finished its development of the Atmaca, an anti-ship cruise missile which can be integrated onto patrol boats, frigates and corvettes. It will be used as part of Turkey's MILGEM national warship program.
Surface to air missiles for Turkey
Roketsan has teamed up with Turkish arms company Aselsan to produce the HİSAR surface to air missile systems. HİSAR's radar, command and control, and fire control systems have been developed by Aselsan, and Rokestan has developed the missile system.
In March 2020 Turkey announced that it was deploying the missile system to be used in its assault on Idlib, Syria.
Collaboration with European companies to make long-range missiles
In late 2018, at a meeting in Paris between Emmanuel Macron and Erdoğan, a deal was finalised whereby Roketsan and Aselsan would cooperate with Eurosam (a partnership of Italy's Leonardo, BAE Systems from the UK, Airbus from the Netherlands, and French company Thales). The companies agreed to prepare the development and production contract for a long-range missile system for the Turkish Air Force. The system would be developed from Eurosam's current SAMP-T air 'defence' systems.
This shameful contract was signed in the context of Turkey's continued ethnic cleansing in Afrin, and plans for a full-scale attack on Rojava.
However, in early 2020, İsmail Demir, head of the Turkish Defence Industry Directorate, stated that France was obstructing progress. According to Defense News, Demir argued that France has impeded progress on a potential deal ever since Turkey's military incursion into northern Syria in October.
Missiles for drones
Roketsan supplies its MAM-L and MAM-C missiles for Turkey's Bayraktar TB2 drone. The TB2 was instrumental to Turkey in its 2018 invasion of Afrin, its 2019 invasion of Rojava and its 2020 attack on Idlib. Go to the profile on Baykar Makina for in-depth information on the use of drones and Roketsan missiles.
Roketsan's missiles will also be deployed on Baykar Makina's new Akıncı drone.
Collaboration with Lockheed Martin
Roketsan is working with Lockheed Martin on the development of cruise missiles for the F35 aircraft. The deal with Lockheed was made at DSEI arms fair in London in 2015.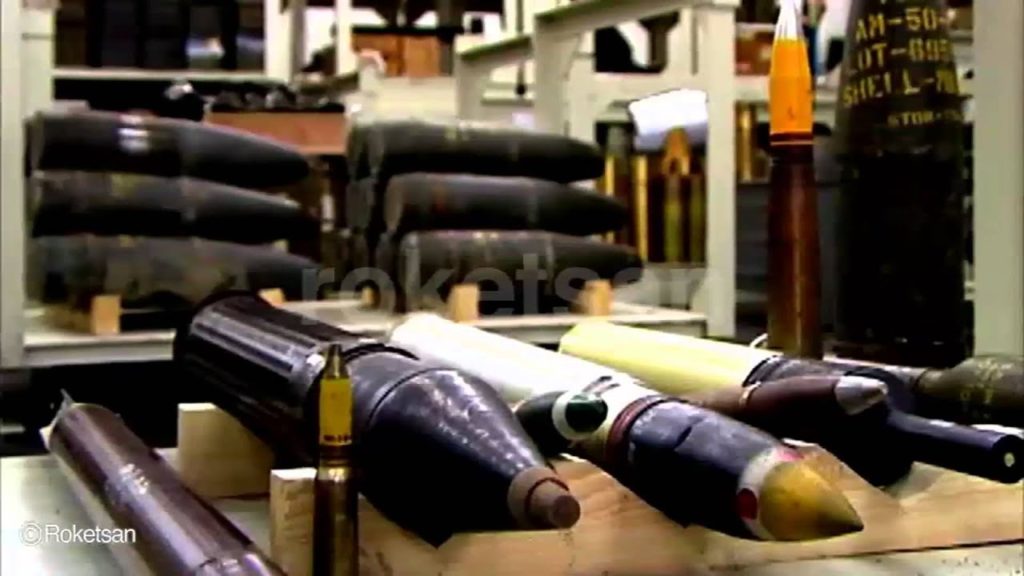 Altay battle tank armour
Roketsan is also working with BMC on the production of Turkey's Altay 'national' battle tank.
Roketsan has provided the armour and protection system for the tank, which is yet to come into service.
Take action
Protest Roketsan's participation in the biannual DSEI arms fair, which is held in Docklands, London.
Demand Lockheed Martin (US), Airbus (Netherlands), Thales (France), Leonardo (Italy) and BAE Systems (UK) end all business relationship with Roketsan, and that they stop arming Turkey.
Demand that investors divest from Lockheed Martin, Airbus, Thales, Leonardo, BAE Systems and MBDA. Many of these companies are registered on the US or London stock exchanges. Airbus shares are also traded in Germany and the Netherlands.
Pressure the Italian and French governments to end their support for Turkey's long-range missile program.
Boycott Vakifbank because of its ownership of shares in Roketsan. Pressure international companies and investors not to do business with Vakifbank.
Basic company information
Global reach: Headquartered in Ankara, with a global reach
Business area: Missiles, armour, softwar
Founded: 1988
Number of employees: 1,900
Ownership: Turkish Armed Forces Foundation (55.3%), Vakifbank (9.93%), Aselsan (14.9%), MKEK 15.2%, Havelsan (4.5%), other (0.2%)
People: Selçuk Yasar
Revenue: $0.52 billion (2019)
Website: www.roketsan.com.tr