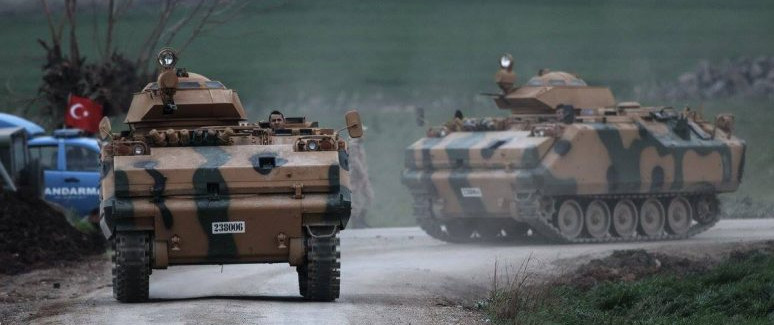 Overview
The Çarmıklı family's Nurol Holding is one of Turkey's mega holding companies. It is worth $3.9 billion in assets, while its turnover is $1.5 billion. Three members of the family feature in Turkey's Richest 100 list. Its arms companies work in partnership with British arms company BAE Systems.
Nurol owns a large number of companies in many different sectors, including in tourism, construction, mining and banking, and has won numerous government contracts. Through its Foundation, Nurol also funds the construction of Turkish schools, libraries and sports halls "with the goal of developing Turkey's national culture".
It owns different arms companies: Nurol Makina and Nurol Teknoloji, as well as the companies FNSS and BNA, which are joint ventures with BAE.
At the same time as investing in beach tourism and plush hotels in Turkey, Nurol arms the Turkish forces with armoured vehicles, water cannons and tanks, used to repress and kill Kurdish people.
Nurol's Çarmıklı family directors profit from providing a paradise holiday, while at the same time are complicit in the murder of civilians.
The more profitable Nurol's tourism companies are, the stronger the group of companies is and the more money they are able to pump into their arms businesses.
Nurol regularly showcases its armoured vehicles at arms fairs around the world, including at DSEI in London's Docklands.
Nurol is leading the consortium building the highly controversial Ilısu dam, which will displace tens of thousands of people in Bakur (south-eastern Turkey).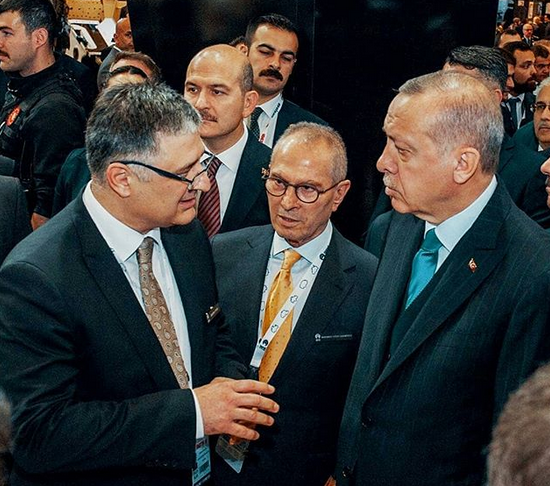 Arming Turkey
Nurol Teknoloji makes ballistic armour for the Turkish forces. Nurol Makina makes a number of armoured vehicles, used to target Kurdish people:
The Ejder Yalçın combat vehicle has been designed and made primarily for the Turkish military and police forces. Turkey owns some 500 of the vehicles. It is mostly used against the Kurdish population in Bakur (south-eastern Turkey), where it is often seen on the streets. Along with Nurol's TOMA vehicle, the Ejder was used extensively when Turkish forces terrorised Kurdish cities which had declared autonomy in 2015/2016 (see here and here).

The Ejder has also been used in its invasion and occupation of Afrin. It was used in both Operation Euphrates Shield and Operation Olive Branch.

It is equipped with weapons stations and has two gun ports on the roof. According to Army Technology, "the optional armament mounted on the vehicle includes 7.62mm and 12.7mm machine guns, a 25mm anti-aircraft gun and a 40mm automatic grenade launcher."

The Ejder Yalçın's missile system is made by Turkish arms company Aselsan.

In 2018, Nurol unveiled an unmanned version of the Ejder Yalçın.


Nurol's TOMA armoured water cannons have long been used to suppress movements critical of the Turkish government or corporations, and are seen daily on the streets of Turkey and Bakur.

The water cannons are capable of inflicting severe injuries on protesters and can even cause death. The Turkish police fired liquid tear gas from water cannons at the 2013 Gezi park protests in Istanbul, severely burning protesters.

They were also used when Turkish forces invaded Kurdish cities which had declared autonomy in late 2015/early 2016 (see here and here).

On May Day in 2016, a man was killed after being hit by a TOMA vehicle.

TOMA water cannons have also been used to prevent Pride in Istanbul.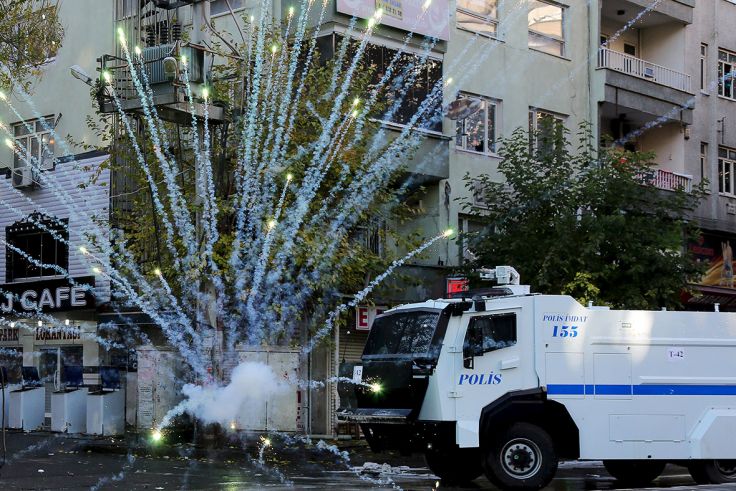 The NMS is an armoured combat vehicle which was unveiled in 2017. According to Army Technology, it is "installed with a roof-mounted remote-controlled weapon system mounting a 7.62mm or 12.7mm calibre machine gun. It can also be fitted with a 40mm anti-tank missile launcher system in place of the machine gun."

The NMS is fitted with cameras, thermal imaging systems and tracking systems. The NMS's missile system is produced by Turkish arms company Aselsan.


Nurol Makina also produces the Ilgaz II, an armoured personnel carrier, and the Ejder Kunter, an armoured combat truck.
Partnerships with BAE Systems
Nurol has teamed up with Britain's largest arms company, BAE Systems, to form two companies: Nurol BAE Systems Air Systems (BNA) and FNSS Defence Systems.
FNSS
FNSS is owned by Nurol (51%) and BAE (49%). The company states that it is "a leading manufacturer and supplier of tracked and wheeled armoured combat vehicles and weapon systems for the Turkish and Allied Armed Forces".

It supplies tanks and armoured bulldozers to Turkey. Its tanks have been used in the invasion and occupation of Afrin.
The FNSS website states: "With production facilities in two overseas countries [including in Saudi Arabia], over 200 local subcontractors, and more than 4,000 armoured combat vehicles used by various countries across the world, FNSS stands today as one of the world's leading companies in its field."
FNSS produces the ACV-15 Tracked Armoured Combat Vehicle, a tank with the capability to have guns mounted on them in various configurations. The ACV-15s have been instrumental in the invasion of Afrin. AMN reported that:
"In addition to serving as traditional battle-wagons for mechanized troops riding into battle, the semi-asymmetrical nature of the fighting in Afrin has also seen the [ACV-15] armoured vehicle be used as a standalone fire support weapon.
To this end, the 25-mm cannon on the ACV-15 offers exceptional hitting power against soft-targets and earth-based positions."
In 2012, FNSS completed the delivery of 12 Amphibious Armoured Combat Earthmover (AACE) units to the Turkish Land Forces. In 2013 FNSS also delivered 52 Armoured Amphibious Assault Bridge (AAAB) platforms.
At Istanbul's 2019 IDEF arms fair, FNSS introduced its armoured amphibious assault vehicle, the ZAHA. The company is due to produce 27 vehicles for the Turkish Naval Forces. "Deliveries start in 2021 and complete in 2022," said Nail Kurt, CEO of FNSS.
According to FNSS CEO Nail Kurt, FNSS and sister arms company Nurol Makina have a very close relationship. "At an operational level, we are currently working together as if we were a single company," he said in 2017. "When it comes to design, the two companies provide every kind of support to one another. We also cooperate on production. We have a fully strategic partnership going on."
FNSS will display its vehicles at DSEI 2019 in London, where it has its eye on making deals.
BNA
In November 2015, Nurol and BAE formed BNA (Nurol BAE Systems Air Systems). BAE owns 49% of the shares and Nurol owns 51%.
BNA makes aircraft flight control systems, engine control systems, fuel systems, environmental control systems, and hydraulics systems.
In 2017 BNA signed a deal with German arms company AES to produce aircraft control systems.
Collaborations with US companies
US companies provide the engines for Nurol's armoured vehicles.

Cummins makes the engine for the Ejder Yalçın.

Perkins manufactures the engine for the TOMA. Perkins is owned by controversial corporation Caterpillar. Palestine solidarity activists have been campaigning against Caterpillar for years due to its machinery being used in house demolitions in the West Bank and Gaza.

Detroit Diesel makes the engine for the ACV-15.
Flooding Hasankeyf
Nurol's construction company has led the consortium constructing the highly controverisal Ilısu dam, located in Bakur. According to Nurol's annual report, the company owns 50% of the shares in the project. The dam is due to be completed in October 2019.

The dam will see hundreds of majority-Kurdish villages submerged under water, literally wiping them from the map. Tens of thousands of people will be displaced.
Activists have been protesting the Ilısu dam for 20 years, stating that Turkey will be flooding the 'cradle of civilisation'. Among the towns set to be submerged is 12,000-year-old Hasankeyf, which has thousands of neolithic caves and hundreds of ancient monuments.
Nurol Construction also won government contracts to construct Hasankeyf's new highway bridges. Meanwhile, Nurol Insurance Brokerage Services has provided insurance for the Ilısu dam engineering and construction.
Complicit in displacing almost 1 million people
While Nurol rakes in the profits from the construction of the Ilisu dam, roughly 100,000 people have been affected, displacing many.

And when Nurol's armoured vehicles rolled into Afrin, 300,000 people had to flee.

1,809,000 people have been affected by curfews in Bakur between 15 August 2015 & 1 January 2019. 500,000 people have been displaced, and many haven't been able to return to their homes. Nurol's vehicles have been used by the Turkish forces in these curfews, terrorising neighbourhoods.

In Sur district of Amed, 24,000 people were displaced from their homes in late 2015. Since then, these Kurdish neighbourhoods have been ethnically cleansed and transformed beyond recognition. Old houses have been knocked down to make way for modern apartments. The original residents will not be allowed to return. By arming Turkey, Nurol is complicit in this ethnic cleansing.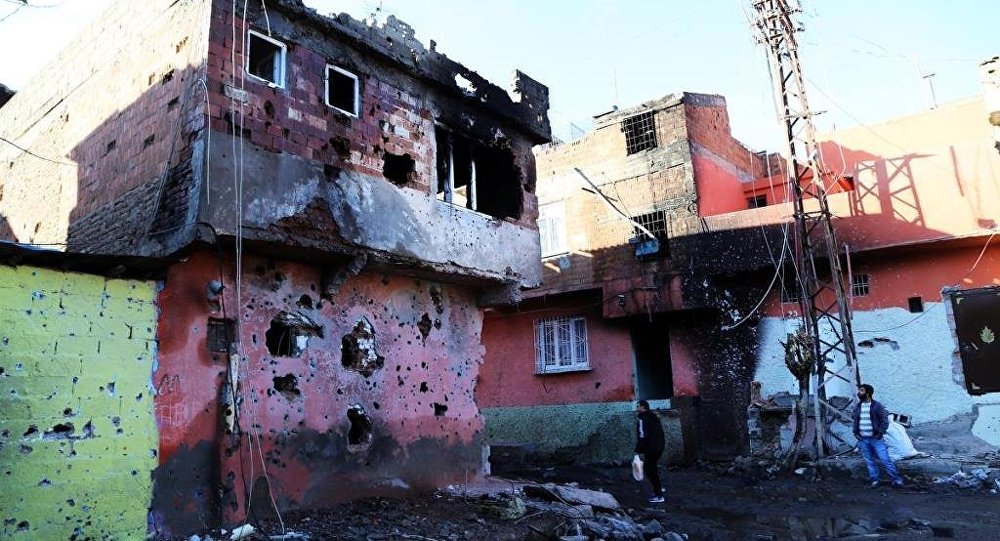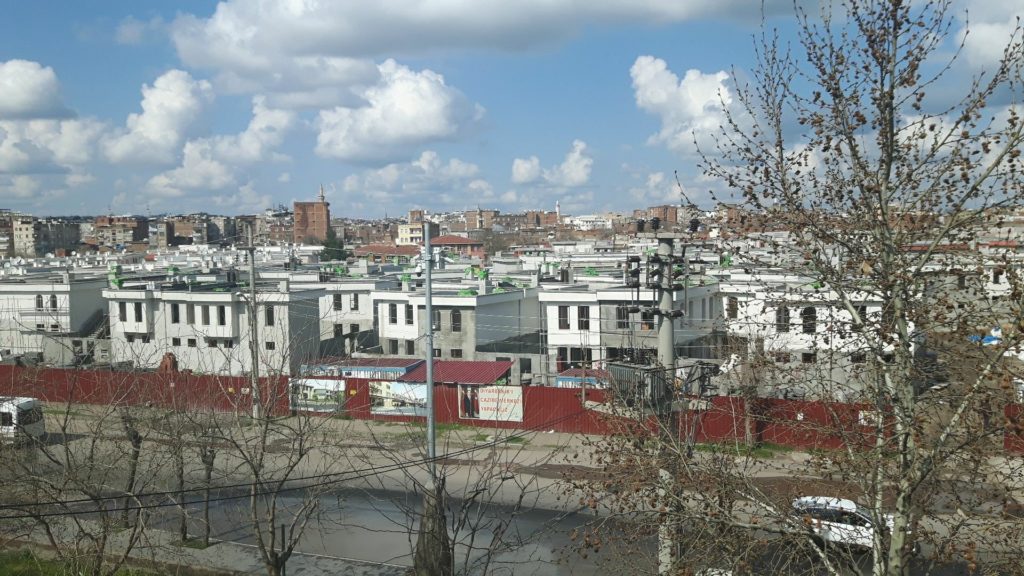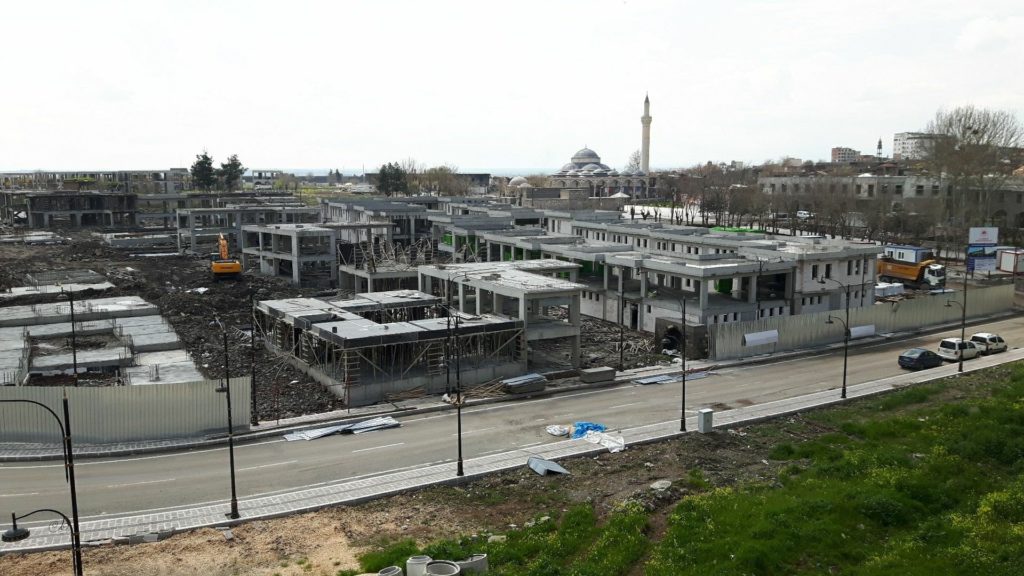 Tourism & shopping
Nurol owns a number of hotels. Its company Turser Tourism owns the Lugal and Sheraton hotels in Ankara. Nurol also owns the Sheraton in Batumi in neighbouring country Georgia. It also owns a five-star holiday village named Club Salima, close to Antalya.
Nurol also owns the Bodrum Oasis shopping, culture and entertainment centre, which has an average of 4 million visitors per year. Oasis hosts art exhibitions and children's films in the cinema.
Basic company information
Industry sectors: Arms, construction, mining, real estate, tourism, banking, insurance and energy.

Global Presence: Nurol Holding is headquartered in Ankara, and its companies are headquarted in both Ankara and Istanbul.

Nurol Construction also has offices in Romania, Algeria, UAE, Georgia, Morocco, Iraq, Libya and Saudi Arabia.

FNSS, the arms company jointly owned with BAE Systems, also has sites in Saudi Arabia and UAE.

Partnerships: Nurol has partnered with British arms company BAE Systems to form two companies: FNSS and BNA.

Type of company: Private

Key people: Nurettin Çarmıklı, Erol Çarmıklı, M. Oğuz Çarmıklı.

Assets: $3.9 billion
Take action
Pressure the British government to stop licensing the export of weapons to Turkey.


Get involved with the campaign to stop the Ilısu dam.


Nurol works in close partnership with BAE Systems.
Protest Nurol and BAE's involvement in London's biannual DSEI arms fair, to be held in September 2019 in London's Docklands.


If you are a student, pressure your university to end its partnerships with BAE.


Resist BAE 's presence on university campuses and participation in careers fairs.


Boycott Turkish tourism. Don't holiday at the Club Salima in Ankara, and don't book a room at the Sheraton.